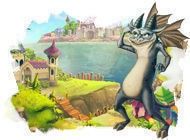 At last! The latest installment of the beloved, Cubis, Match 3, franchise is here!
It's a brand new world with Cubis Kingdoms. Cubis fans will recognize the famously unique, three dimensional gameplay, but with a whole new twist. This time around, every match counts. Make matches in order to collect precious elements required to restore the kingdom. Clear the board to earn elixirs that return people and animals to their once cursed land.
Along the way, meet your cute and helpful allies who aid your progress with exciting, new, power-ups. Strategically blast rows, explode cubes, and destroy all obstacles in your path.