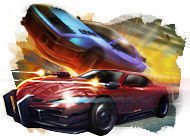 In the late 21st century the world has been brought to its knees by the greed of humankind. The political and economic breakdown has forged a path of violence and outlaws rule the world. War and chaos plays into the hands of greedy corporations. To sustain the blood-lust, a powerful organization named Cyberline Corp decides to organize a breathtaking show — a race to the death.
Run by a heartless racer by the name Inferno, Cyberline Corp's hidden goal is to test new warfare technologies on the field, in combat closed situations, a goal it plans to achieve during violent and adrenaline charged races. The death race has brought together the very worst of the past civilization: murderers, discarded androids and people who have nothing else to lose. You will have to battle against them on the racing track where you don't just win a race, you gain the right to live.
As a contestant of this deadly competition, you will have to overcome 15 crazy racers. Each opponent has a background story (which might bring you to tears or make you want to kill them even more). They all have a reason to put their life on the line in order to race against you. Overtake them, ram them, blow them up, do whatever it takes to cross the finish line FIRST!
You will have to battle on racing tracks set in the most thrilling and exotic locations, from cyberpunk slums to snowy mountains, scorching deserts, endless skyscrapers and many more! As you make your way to the top you will unlock 30+ stunning combat cars and design them into the ultimate racing monsters.