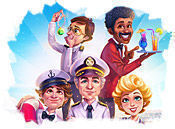 Love, exciting and new... Come aboard... We're expecting you!
The Love Boat is back and better than ever! The famous TV show now has its very own time management game. Remember the days you drifted away with Captain Stubing, Julie, Gopher, Doc and Isaac? Relive those good times in this brand new GameHouse Original Story.
It's time to set course for a time management adventure! Join the crew of your favorite series and discover many hilarious and romantic stories. Are you ready to get swept away by this unforgettable trip down memory lane?
Anything is possible on the Love Boat!