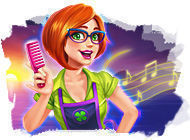 Business is booming, and Sally and her new side-kick François are making the town a little more beautiful, one treatment at a time. At least, they were — until some breaking news left Sally bursting with excitement!
Turns out her favorite singer and long-time crush Julio will be performing his farewell concert near Snuggford! As one of his biggest fans, Sally couldn't be more thrilled. But there's more. What nobody knows is that Julio and Sally had a summer romance 20 years ago!
Just when Sally's convinced they'll be able to rekindle their romance... Disaster strikes! Julio's plane goes missing on its way to the concert. Determined to find him, Sally and François set off on an incredible search!